newGRAPH
newGRAPH is a fully integrated environment used for improving a research process in graph theory. Its purpose is:
help a researcher pose, verify or disprove a conjecture
experiment with graphs
educative application
It is a new version of GRAPH, written by Dragoš Cvetković and his collaborators. It is currently being developed by Dragan Stevanović and Vladimir Brankov, with Dragoš Cvetković and Slobodan Simić serving as consultants.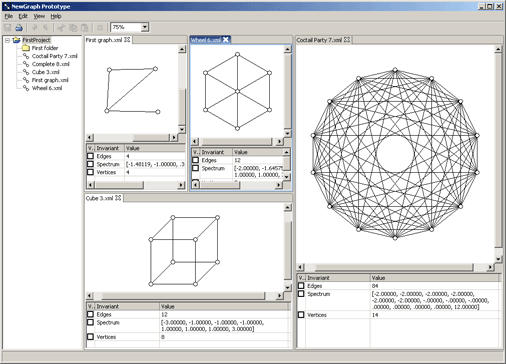 Download & Installation
Click the links below to download the newGRAPH:
newGRAPH 1.1.3 for Windows
newGRAPH 1.1.3 for Mac OS X
Windows installation: The java virtual machine, downloadable from java.sun.com, version 1.4.2 or higher, should be installed on the system. The archive newgraph-1.1.3-win32.zip should be extracted in the "Program Files" directory, and newgraph.bat should be executed.
Mac OS X installation: Extract newgraph-1.1.3-macosx-carbon.zip, then run newGRAPH application.
Collection of plug-ins
??tila Jones and Denilson Ribeiro from Federal Institute of Southeast Minas Gerais, Brazil, implemented a number of plug-ins for newGRAPH. You may find their plug-in collection here.

---