Next:
Chocolate games for k
Up:
Abstract and the table of contents
Previous:
Introduction

Chocolate games that satisfy the inequality .
Next we define chocolate games. Please consult chocolates in Fig.2.1 and Fig.2.2 while you read this definition, since this definition looks very abstract without examples.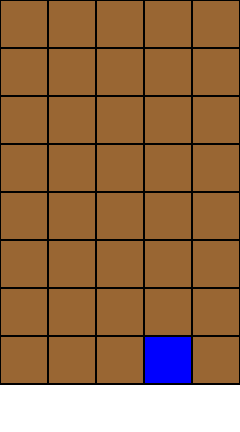 One of the most important topics of chocolate games is to find all the L-states and the W-states of games. We denote by

the set of non-negative integers.

2] (p-139).
We generalize the chocolate games in Fig. 2.2, and define the chocolate game that we study in this article.
we denote by
the state of chocolate.
, and this is equivalent to the inequality
where

is the floor function. Note that

is the largest integer not greater than

for any real number

.
Note that you can cut
block horizontally

times at most for any non-negative integer
.
Inequality (2.2) is important to understand the structure of the chocolate. If you start with the chocolate in Fig. 2.5 and reduce the third coordinate
to

by cutting vertically on the right side of the bitter block, then by the structure of the chocolate the second coordinate is reduced to
.
In this way we get the chocolate in Fig. 2.6.
If we are to explain the move from the chocolate in Fig. 2.5 to the chocolate in Fig. 2.6 using Inequality (2.2), we use the following explanation.
Let

, then by Inequality (2.2) we get

.


2.6 we tell L-states from W-states, and in Example 2.4 we learn how to win the game using the theorem.


2.4 the strategy to win is clear. Even if you do not read the proof of Theorem 2.6, you can be a good player of this chocolate game.
Next: Chocolate games for k Up: Abstract and the table of contents Previous: Introduction