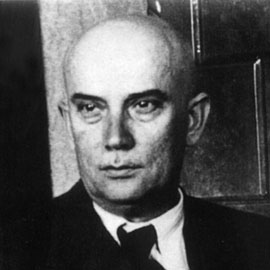 RADIVOJ KAŠANIN
(1892 - 1989)
Radivoje Kašanin was born on May 21, according to Julian calendar, in Beli Manastir, Baranja. He attended the Serbian elementary school in his native town from 1892 to 1902. He completed the first three classes of classic gymnasium in Osijek, and then he moved to Novi Sad, where he finished the fourth class and passed the final examination. In 1910 he began his studies in mathematics and astronomy in Vienna, and in 1911 he moved to the University of Zagreb, where he stayed until summer of 1913. The same year Radivoje Kašanin moved to the University of Budapest, and continued his studies of mathematics. The beginning of the First World War in 1914 interrupted his studies in Budapest, he was mobilized by the Austro-Hungarian Army. In May 1915 he was sent to the Russian front, and soon after he was demobilized and in 1920 he went to Paris where he completed his studies in mathematics on Sorbone in 1921 (Licence es Sciences mathematiques). He defended his doctoral dissertation in 1924. He was appointed assistant at the Technical Faculty of the University of Belgrade in 1922, an assistant professor in 1926, associate professor in 1930, and full professor in 1939. He was elected Rector of the Technical High School for two terms of office (1950/51 and 1951/52).
He was elected corresponding member of the Serbian Academy of Sciences on March 2, 1946 and full member on June 10, 1955. He served the post of director of the Institute of Mathematics from 1951 to 1958, was president of its Council from 1958 to 1961. In 1950 the Proceeding of the Institute of Mathematics were published and during the next ten years Radivoje Kašanin was its editor in chief. From October 1, 1957 to January 12, 1959 Radivoje Kašanin served as deputy vice-president of the Serbian Academy of Sciences.
During his studies in Vienna, Zagreb, Budapest and Paris he received an excellent grounding and substantial knowledge in mathematics, rational mechanics and astronomy. From the very beginning of his engagement at the University of Belgrade his intellectual and scientific knowledge gave guidance to his younger colleagues and students and steeled them in their first steps in science.
Successful achievements of Radivoje Kašanin could be found in many fields: theory of differential equations, theory of complex functions, analysis, geometry, interpolation and approximation, mechanics, astronomy and geophysics and in each of mentioned fields of his work he published papers that were acknowledged.
As a professor at technical faculties of the Belgrade University and head of the department of mathematics at those faculties, and especially with his text book on higher mathematics, professor Kašanin made enormous contribution to the raising of teaching level of mathematics. For a short time he served as Rector of the High Technical School from which post he was able to exert a formative influence on evaluating teaching levels of other subjects.
He was director of the Mathematical institute for many years, then president of its Scientific Council and considerably contributed to its reputation. Young mathematicians and many other researchers had his full support.
Radivoje Kašanin is rightly regarded as talented mathematician and scholar of natural sciences with wide scientific culture. As for his profound and diversified knowledge in many areas of mathematics, mechanics and astronomy he could be considered as our last encyclopedist.
Radivoje Kašanin was friendly and witty person. He was endowed with an outstanding memory and gift of observation.
Radivoje Kašanin died in Belgrade on October 30,1989 where he was buried.

His bibliography is found here.

Author: Simeunović, Radivoje